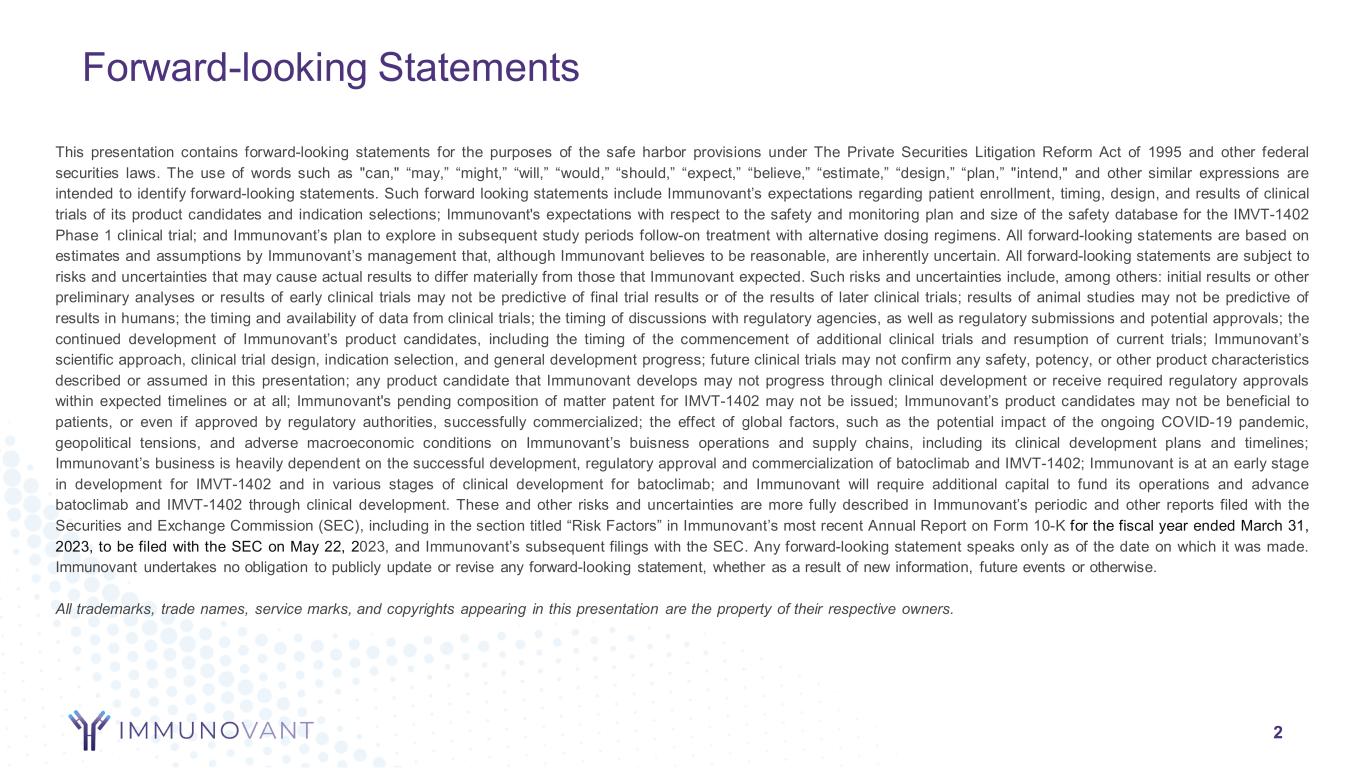 Forward-looking Statements 2 This presentation contains forward-looking statements for the purposes of the safe harbor provisions under The Private Securities Litigation Reform Act of 1995 and other federal securities laws. The use of words such as "can," "may," "might," "will," "would," "should," "expect," "believe," "estimate," "design," "plan," "intend," and other similar expressions are intended to identify forward-looking statements. Such forward looking statements include Immunovant's expectations regarding patient enrollment, timing, design, and results of clinical trials of its product candidates and indication selections; Immunovant's expectations with respect to the safety and monitoring plan and size of the safety database for the IMVT-1402 Phase 1 clinical trial; and Immunovant's plan to explore in subsequent study periods follow-on treatment with alternative dosing regimens. All forward-looking statements are based on estimates and assumptions by Immunovant's management that, although Immunovant believes to be reasonable, are inherently uncertain. All forward-looking statements are subject to risks and uncertainties that may cause actual results to differ materially from those that Immunovant expected. Such risks and uncertainties include, among others: initial results or other preliminary analyses or results of early clinical trials may not be predictive of final trial results or of the results of later clinical trials; results of animal studies may not be predictive of results in humans; the timing and availability of data from clinical trials; the timing of discussions with regulatory agencies, as well as regulatory submissions and potential approvals; the continued development of Immunovant's product candidates, including the timing of the commencement of additional clinical trials and resumption of current trials; Immunovant's scientific approach, clinical trial design, indication selection, and general development progress; future clinical trials may not confirm any safety, potency, or other product characteristics described or assumed in this presentation; any product candidate that Immunovant develops may not progress through clinical development or receive required regulatory approvals within expected timelines or at all; Immunovant's pending composition of matter patent for IMVT-1402 may not be issued; Immunovant's product candidates may not be beneficial to patients, or even if approved by regulatory authorities, successfully commercialized; the effect of global factors, such as the potential impact of the ongoing COVID-19 pandemic, geopolitical tensions, and adverse macroeconomic conditions on Immunovant's buisness operations and supply chains, including its clinical development plans and timelines; Immunovant's business is heavily dependent on the successful development, regulatory approval and commercialization of batoclimab and IMVT-1402; Immunovant is at an early stage in development for IMVT-1402 and in various stages of clinical development for batoclimab; and Immunovant will require additional capital to fund its operations and advance batoclimab and IMVT-1402 through clinical development. These and other risks and uncertainties are more fully described in Immunovant's periodic and other reports filed with the Securities and Exchange Commission (SEC), including in the section titled "Risk Factors" in Immunovant's most recent Annual Report on Form 10-K for the fiscal year ended March 31, 2023, to be filed with the SEC on May 22, 2023, and Immunovant's subsequent filings with the SEC. Any forward-looking statement speaks only as of the date on which it was made. Immunovant undertakes no obligation to publicly update or revise any forward-looking statement, whether as a result of new information, future events or otherwise. All trademarks, trade names, service marks, and copyrights appearing in this presentation are the property of their respective owners.
---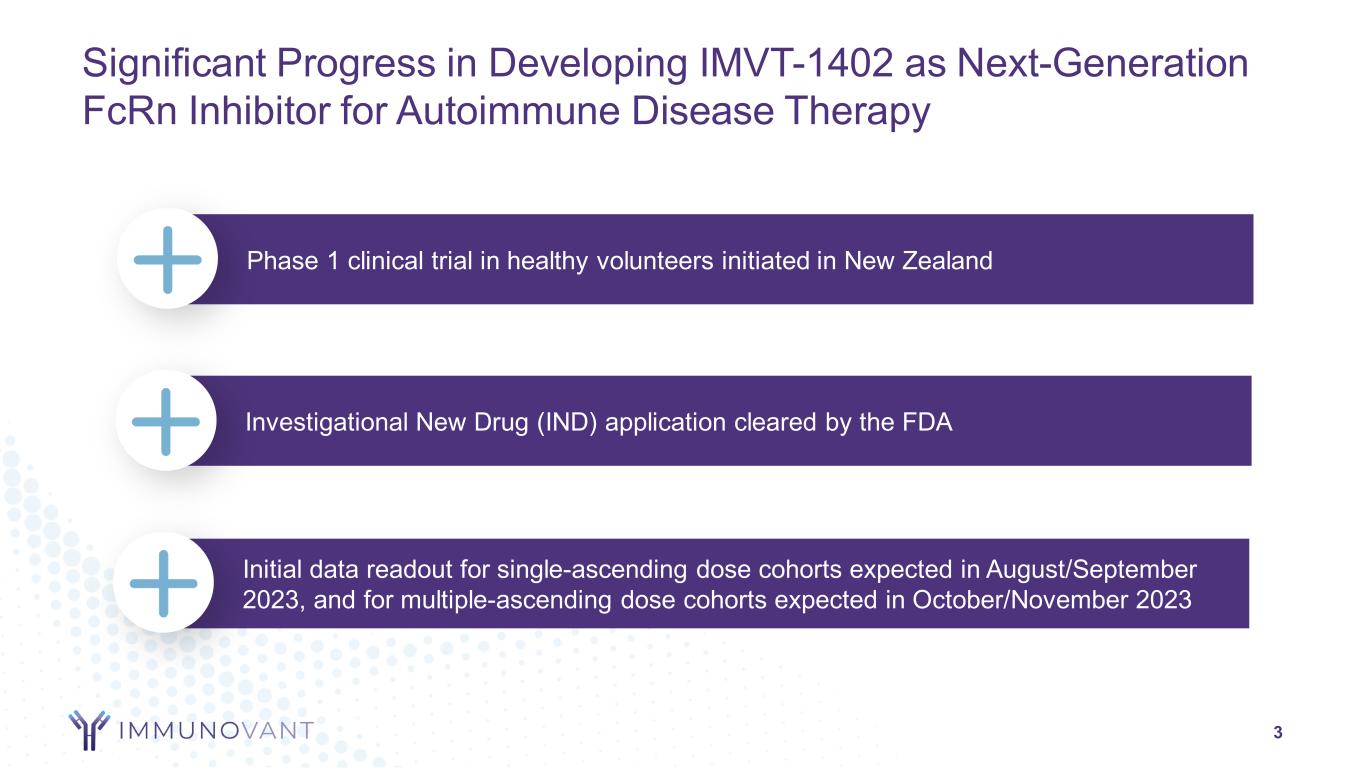 3 Significant Progress in Developing IMVT-1402 as Next-Generation FcRn Inhibitor for Autoimmune Disease Therapy Phase 1 clinical trial in healthy volunteers initiated in New Zealand Investigational New Drug (IND) application cleared by the FDA Initial data readout for single-ascending dose cohorts expected in August/September 2023, and for multiple-ascending dose cohorts expected in October/November 2023
---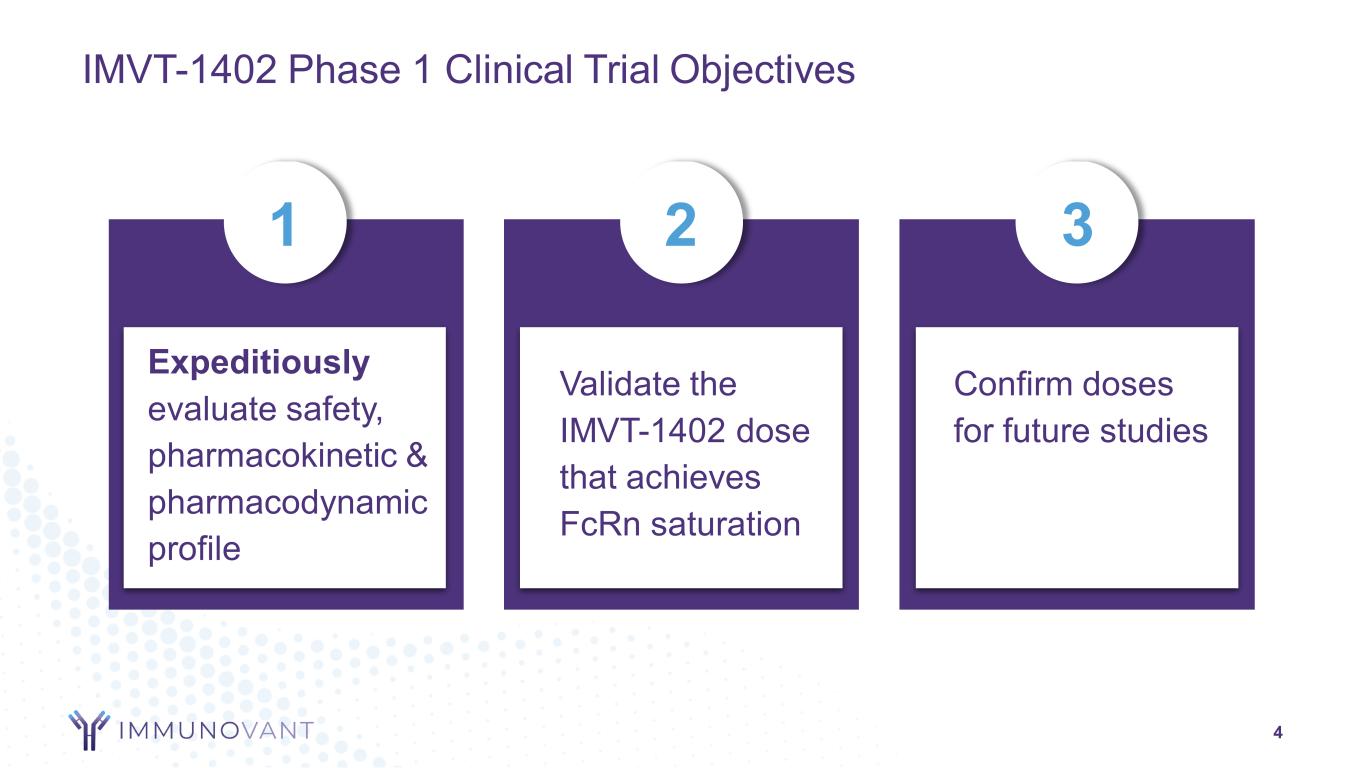 IMVT-1402 Phase 1 Clinical Trial Objectives 4 Expeditiously evaluate safety, pharmacokinetic & pharmacodynamic profile Validate the IMVT-1402 dose that achieves FcRn saturation Confirm doses for future studies 1 2 3
---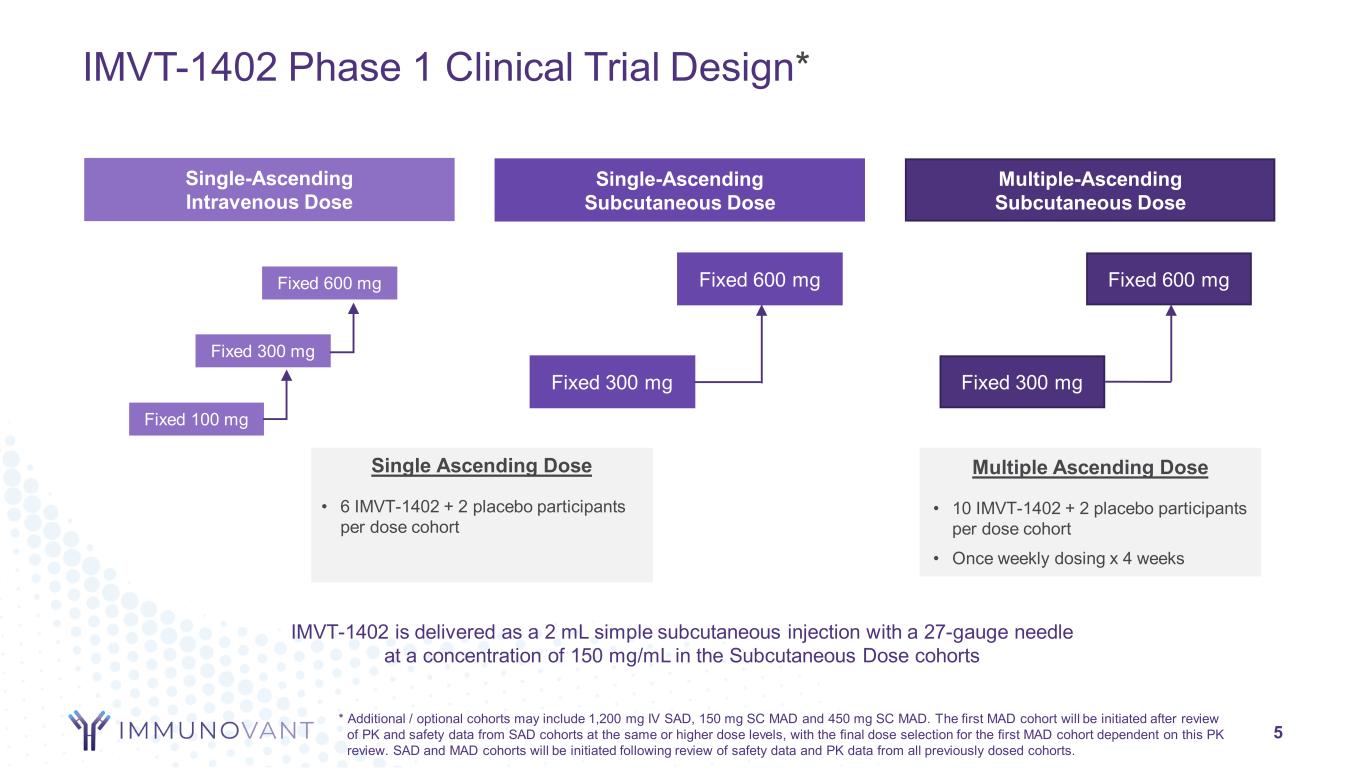 IMVT-1402 Phase 1 Clinical Trial Design* 5 Single-Ascending Intravenous Dose Single-Ascending Subcutaneous Dose Multiple-Ascending Subcutaneous Dose Fixed 300 mg Fixed 100 mg Fixed 600 mg Fixed 300 mg Fixed 600 mg Fixed 300 mg Fixed 600 mg Single Ascending Dose • 6 IMVT-1402 + 2 placebo participants per dose cohort Multiple Ascending Dose • 10 IMVT-1402 + 2 placebo participants per dose cohort • Once weekly dosing x 4 weeks IMVT-1402 is delivered as a 2 mL simple subcutaneous injection with a 27-gauge needle at a concentration of 150 mg/mL in the Subcutaneous Dose cohorts * Additional / optional cohorts may include 1,200 mg IV SAD, 150 mg SC MAD and 450 mg SC MAD. The first MAD cohort will be initiated after review of PK and safety data from SAD cohorts at the same or higher dose levels, with the final dose selection for the first MAD cohort dependent on this PK review. SAD and MAD cohorts will be initiated following review of safety data and PK data from all previously dosed cohorts.
---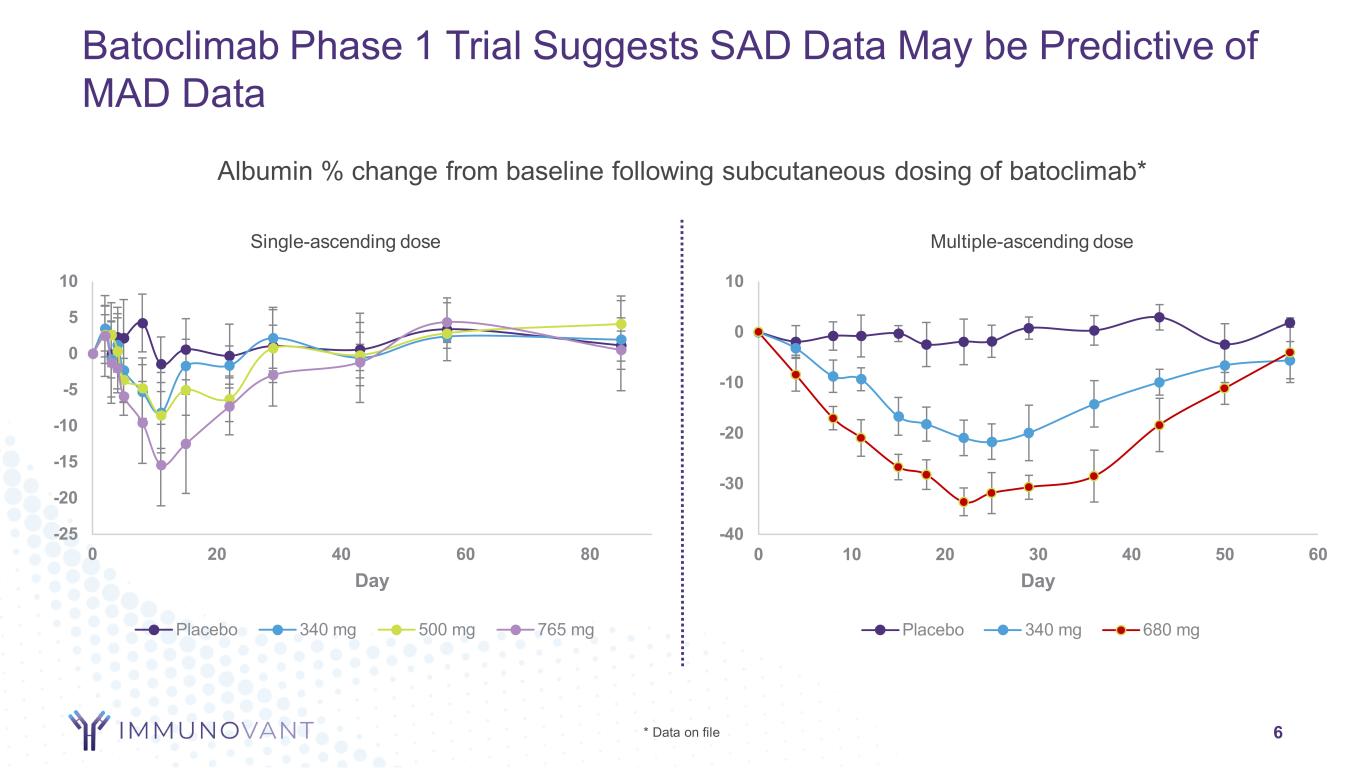 6 Batoclimab Phase 1 Trial Suggests SAD Data May be Predictive of MAD Data -40 -30 -20 -10 0 10 0 10 20 30 40 50 60 Day Placebo 340 mg 680 mg -25 -20 -15 -10 -5 0 5 10 0 20 40 60 80 Day Placebo 340 mg 500 mg 765 mg Albumin % change from baseline following subcutaneous dosing of batoclimab* * Data on file Single-ascending dose Multiple-ascending dose
---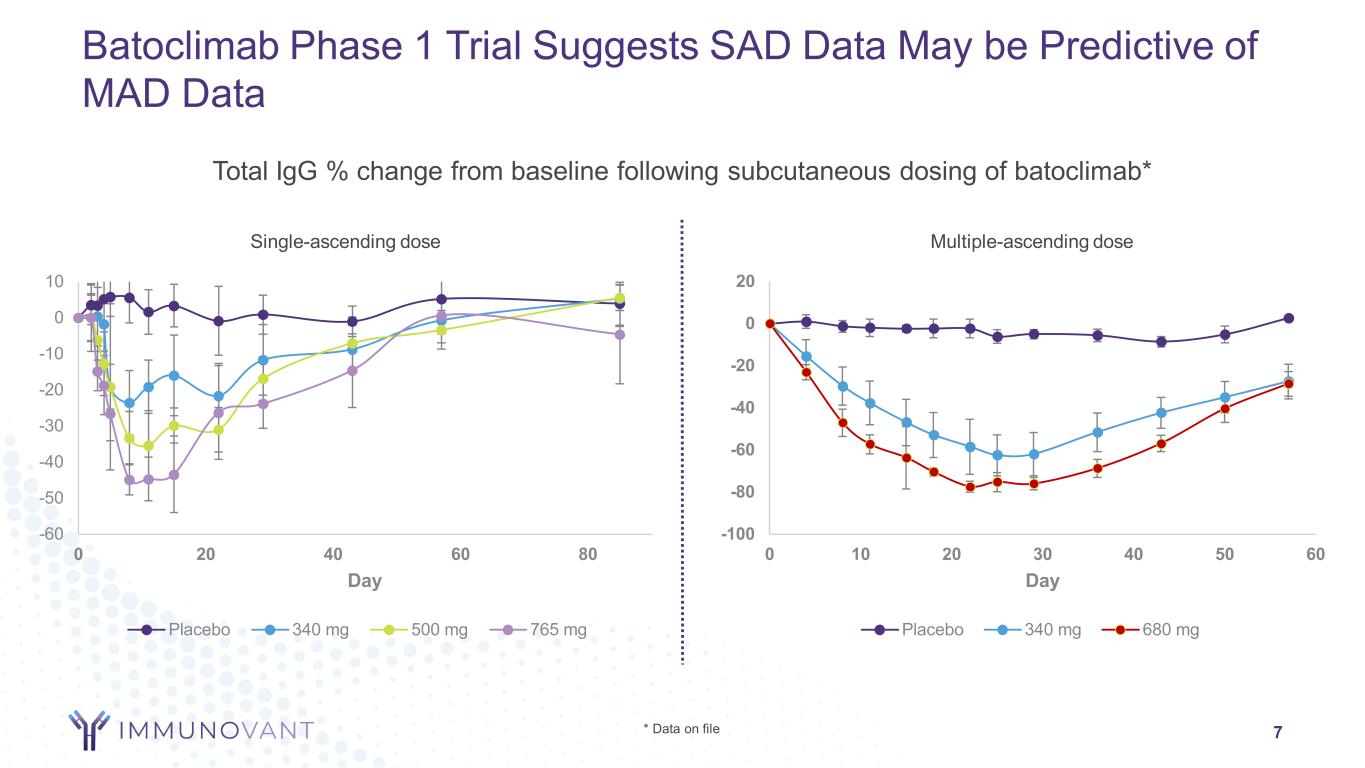 7 Batoclimab Phase 1 Trial Suggests SAD Data May be Predictive of MAD Data Total IgG % change from baseline following subcutaneous dosing of batoclimab* * Data on file Single-ascending dose Multiple-ascending dose -100 -80 -60 -40 -20 0 20 0 10 20 30 40 50 60 Day Placebo 340 mg 680 mg -60 -50 -40 -30 -20 -10 0 10 0 20 40 60 80 Day Placebo 340 mg 500 mg 765 mg
---